The Best Hawaii Fishing Charters
This page has ads or sponsored links. We may earn a commission if you click or make a purchase.


-
Hey, anglers! Welcome to my best Hawaii fishing charters guide for 2023. I'm Rob, and I've been fishing since I was six years old, and I know a lot about fishing charters.
Hawaii is hands down my absolute #1 favorite fishing location in the world. (They also have amazing hikes and nature, but that's for another story.)
The tour operators in Hawaii have service-oriented staff and captains with excellent knowledge and a love for fishing. There is always a tiny chance for a horrible tour operator. Still, you can avoid that by doing your online research beforehand instead of just showing up and picking one on location.
Don't worry; I will let you know the top fishing charters with positive reviews that know what they are doing so that you can find a good fishing charter and enjoy your time in Hawaii.
Top Hawaii Fishing Charters for 2023
Here are the top 5 best Hawaii fishing charters for your next year's trip:
Oahu Pelagic Sportfishing
Hawaii Ocean Adventure Tours (Finnattic)
Ocean Addict Hawaii LLC
Ohana Yachts
Skillet Sportfishing
You can see availability here.
Let's take a closer look at these fishing tour providers.
#1 Oahu Pelagic Sportfishing
Oahu Pelagic Sportfishing welcomes visitors to Honolulu, Hawaii for an angling experience like no other. Guests have the entire 35′ Bruno & Stillman saltwater fishing boat, equipped with the latest navigation technology, all to themselves. On the boat, they can look forward to fishing for Giant and Silver Trevally, Bigeye Tuna, Mahi Mahi and more with a choice of light or hard tackle. All necessary equipment, bait and lures will be provided, as well as cleaning and filleting of up to 40lbs of catch. Kids are also welcome, with no additional cost for those age 0-1, and the entire group size is limited to 6. Prices start from $395 for 2 people for a 2-hour trip.
#2 Hawaii Ocean Adventure Tours FINNATTIC
Hawaii Ocean Adventure Tours (Finnattic) offers the perfect combination of fishing, snorkeling and sightseeing for groups of up to six people. Their experienced and friendly captain, Ryan, welcomes you aboard his 25′ Wellcraft center console powered by twin 115 HP Yamaha engines – fully overhauled in 2016 and wheelchair accessible. With unbeatable prices and all the necessary equipment included, you're guaranteed to have a memorable experience on the water. Tackle, bait, lures, fishing licenses and catch cleaning are all provided, and you'll have the chance to catch a variety of prestigious game pelagics such as Mahi Mahi, Wahoo, Marlin, and Tuna, using a range of techniques such as trolling, spinning, jigging, and popping. Don't miss out on this incredible opportunity – book your Hawaii Ocean Adventure Tours today! Prices start from $800-850 for up to 6 persons for a 4-hour trip.
#3 Ocean Addict Hawaii LLC
Ocean Addict Hawaii LLC offers an unforgettable experience for families and friends. Their 36′ Hatteras boat is powered by twin 350 HP John Deer engines, has a private bathroom, and an enclosed cabin with air-conditioning. Guests can enjoy a variety of activities, such as sportfishing, snorkeling, whale watching, sightseeing, and dinner cruises. The experienced captain has 20+ years of experience fishing out of Haleiwa, and provides all the necessary equipment. All guests need to bring is snacks and drinks, and they can enjoy an amazing adventure on the beautiful north shore of Oahu.
#4 Ohana Yachts
Ohana Yachts provides an exciting fishing adventure in the waters of Honolulu. Guests will board a 74' Striker motor yacht, equipped with a comprehensive navigation system, onboard facilities, and fishing equipment. A first mate will be available to offer assistance. Guests can expect to catch Mahi Mahi, Blue Marlin, Wahoo, and Skipjack Tuna, and can keep all the fish they catch. Ohana Yachts will provide all necessary equipment, drinks, and will clean and fillet the catch. All that is needed is some food to bring on board. Join Ohana Yachts and have an amazing fishing experience!
#5 Skillet Sportfishing
Skillet Sportfishing and Captain John Burke offer an amazing fishing experience in Kailua-Kona, Hawaii. With over 5 decades of fishing experience in Hawaii, Captain John and his 32' Topaz saltwater fishing boat can take up to 6 guests out on the ocean to target species such as Marlin, Tuna, Mahi Mahi, Sailfish, Spearfish, and Wahoo. All the necessary fishing tackle, bait, and cleaning of fish is taken care of, so guests only need to bring their own food and drinks. No fishing license is required in Hawaii, making this a perfect opportunity to enjoy an unforgettable day out with family and friends.
There are a few things to consider before choosing the best charter for your needs:
What type of fish do you want to catch? (there are A LOT in Hawaii, so you want a boat and captain who can take you to them)
How experienced are you? If you're a beginner, you probably want to get a private charter with a professional guide to show you how to fish. If you're experienced, choose a different charter so you don't spend your time listening to a lecture when you could catch giant tunas and swordfish instead.
What's your budget? You can get a private charter or save money and go with a shared charter. Prices can vary greatly, so be sure to compare prices and services before you decide.
In my opinion, the fishing charters in Hawaii are top-notch, and I believe you will have a great time whichever you choose. You can't go wrong when departing from the white sandy beaches, sailing out on azure waters in the sun, feeling the ocean breeze on your face, and catching beautiful fish.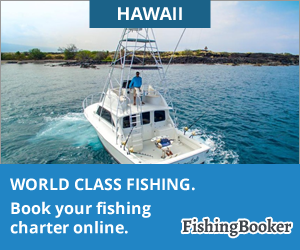 Fishing in Hawaii
Hawaii is considered one of the best fishing locations in the world due to its azure water and white beaches.
The waters around Hawaii are home to various world-famous fish, including pelagic fish such as marlin, billfish, tuna, wahoo, and Mahi Mahi are available the whole year.
There is also a variety of reef fish, including snapper, grouper, and surgeonfish, as well as other sea creatures like Lobsters, Crabs, Green Sea Turtles, Spinner Dolphins, Hawaiian Monk Seals, Humpback Whales, Sharks and Rays of various types, to name a few.
The islands offer a variety of fishing opportunities, from deep sea fishing, spearfishing, and bottom fishing to inshore freshwater fishing for catfish and bass.
Fishing regulations and licenses in Hawaii
Unless you are fishing in inshore freshwaters, you don't need a license for fishing in Hawaii.
There are a few species that you are forbidden to fish or not allowed to fish during some months of the year.
Jobfish/Rusty and Snappers are forbidden from May through September, and Lobster fishing is prohibited from May through August. There also may be strict regulations on Onaga and Ehu. Laws may change, and there may be local rules, but your captain or experienced guide should be knowledgeable to inform and instruct you if that's the case.
Fishing locations
Some popular fishing locations in Hawaii are:
Haleiwa
Kailua-Kona
Princeville
Wahiawa
Hilo
Lahaina
Lihue
Many boats depart from these locations daily.
Fishing techniques in Hawaii
Hawaii fishing provides a wide range of services and fishing experiences. Here are a few types of fishing techniques:
bottom fishing
spearfishing
bowfishing
inshore freshwater fishing (requires a license)
Types of fish
These are some of the most common fish you can find in Hawaii:
Amberjack
Amberjack fish are jackfish in tropical and subtropical waters worldwide, including Hawaii. They are a popular game fish due to their size and fighting ability and are also considered good food.
Amberjack can grow quite large, with some individuals reaching over 90 kg (200 lb). The average size is 15-30 kg (33-66 lb).
Amberjack is usually found around deep water reefs, shipwrecks, or other structures and is a popular target for sports fishermen visiting the islands. They feed on smaller fish, squid, and crustaceans, and put up a good fight when hooked, making them a challenging and exciting catch.
These fish are also prized for their meat, which is quite mouth-watery and delicious and is often served grilled, baked, or smoked.
Largemouth Bass
The Largemouth Bass is a species of freshwater fish found in Hawaii. It is a popular game fish and is known for its large mouth. The largemouth bass is a member of the sunfish family and can grow quite large, reaching up to 20 pounds. The fish are usually greenish, with dark spots on their sides.
The largemouth bass is a popular game fish because it is relatively easy to catch and can create a good fight. The fish are often found in ponds, lakes, and rivers and can be caught using bait, fly, and spin. Bass is considered good eating, but the taste can vary depending on where they are caught.
Peacock Bass
The peacock bass fish is a native of South America, but it has been introduced to many other parts of the world, including Hawaii. It is a popular game fish due to its large size and fighting ability. The average size of a peacock bass is about 20 inches, but they can grow up to 30 inches in length. They are typically greenish-brown with dark bars or spots on their body.
In Hawaii, peacock bass can be found in freshwater ponds and lakes and are not common in saltwater habitats, and are opportunistic feeders and will eat a variety of prey, including fish, frogs, and insects.
They are an essential part of the Hawaii ecosystem and help keep the populations of other animals in check.
Bonefish
The bonefish is a popular game fish in tropical and subtropical waters worldwide. In Hawaii, bonefish are found both inshore and offshore, with most fish being caught inshore.
A bonefish can weigh up to 14 pounds and grow to a length of 31 inches. They have long lives, up to 20 years, and become sexually mature at 2-3 years.
Bonefish can be found in many coastal habitats, including flats, reefs, and lagoons. They are often seen swimming in large schools but can also be found alone or in smaller groups or pairs.
Bonefish eat a variety of small invertebrates and fishes. Their diet consists primarily of shrimp, crabs, and small fish, and they are often caught on flies, lures, and live bait.
Be prepared for a fight if you're lucky enough to hook a bonefish! These fish are powerful and can make long runs when hooked. Using proper tackle when fishing for bonefish is vital to avoid breaking your line or losing your fish.
Dolphin Fish (Mahi Mahi)
Mahi Mahi is a popular fish in Hawaii and is considered a delicious seafood. It has a mild flavor and a firm texture and is often used in Hawaiian dishes such as poke and Lomi Lomi salmon. They are good sources of protein, omega-3 fatty acids, and vitamins A and D.
Jobfish
Rusty Jobfish is a type of fish found in depths of 10 to 300 meters. They are a popular target for fishermen as they're known to be good food. Jobfish are also sometimes used as bait fish because other fish love them.
Lobster
The warm waters surrounding the islands make for ideal lobster habitats, and the reefs provide ample places for them to hide.
Lobsters are caught using baited traps, which are lowered to the seafloor on long lines. Once a lobster is captured, it is brought to the surface and placed in a holding tank.
Lobster fishing is regulated by the state of Hawaii and is strictly prohibited between May through August. There are size limits and regulations about which types of lobsters you can catch, and egg-bearing females are not permitted. These laws ensure that the lobster population remains healthy and can continue for generations.
Marlin
Marlin fish are found in many different parts of the world, but they are especially plentiful in Hawaii. Marlins are especially fast, reaching speeds up to 36 kilometers or 22 miles per hour. For comparison, the world's fastest human, Usain Bolt, ran 100 meters with an average speed of 37 km/h, reaching top speeds of 44 km/h.
There are three main types of marlin fish found in Hawaii: black, blue, and striped.
Black marlin can grow up to 15 feet long and weigh up to 1650 pounds. They have a dark blue body with a white belly and black fins.
Blue marlin can grow up to 16 feet in length and weigh up to 1378 pounds. Pacific blue marlin have a dark blue body with a white belly, and their fins are blue. dee
Striped marlin are the smallest of the three, growing up to 13.8 feet long and weighing up to 490 pounds. They have a dark blue body, a yellowish gradient horizontal strip along the side, and a white belly. They have white vertical stripes running down their sides, and their fins are blue.
All three types of marlin fish are popular with big game sport fishermen in Hawaii. They are known for being solid fighters, and they put up a good fight when hooked. Marlin fishing is considered one of the most challenging and exciting forms of fishing there is.
Steelhead Rainbow Trout
The steelhead rainbow trout is one of the most popular fish in the state. It is a beautiful fish with a silver body and pinkish fins, and it is also a fighting fish prized by anglers. The steelhead rainbow trout are found in streams, rivers, and lakes.
Red Snapper and Pink Snapper
Short-tailed red snapper (Ehu) and pink snapper fish are two of the most popular types of fish in Hawaii. Both are known for their delicious flavor and tender texture.
Pink snapper fish is typically smaller than red and has a milder flavor. It is often used in sushi and sashimi, as well as for grilled and baked dishes.
Red snapper is slightly larger than pink and has a more robust flavor. It is a versatile fish in many recipes, including stews, curries, and stir-fries.
Short-tailed red and pink snapper are widely available, making them an excellent choice for those looking to enjoy fresh, local seafood.
Swordfish and Spearfish
The shortbill spearfish and swordfish are two species found in Hawaii's waters. Both species are known for their long, slim bodies.
The spearfish is more petite, reaching up to 6 feet in length, while the swordfish grows to about 10 feet.
The swordfish record is 14 feet and 11 inches long and weighs 1430 pounds, whereas the shortbill spearfish record is 7 feet and 6 inches and weighs only 115 pounds.
Both fish are predators, feeding on smaller fish, mackerel, herrings, squid, and crustaceans.
Humans do not often see these swordfish as they feed during the night and stay at depths of 500 meters or 1800 feet during the day.
Giant Trevally and Bluefin Trevally
Bluefin trevally and Giant Trevally are popular. Many people come to the islands specifically to fish for these two species of fish.
The bluefin trevally (bluefin jack) is a member of the jack family, Carangidae, and can grow up to a maximum of 3.8 feet in length and weigh 96 pounds, but rarely it grows larger than 2.6 feet.
The giant trevally is an even larger fish and can reach lengths up to 5.5 feet and weigh 176 pounds. Both of these fish are prized by anglers for their fighting ability.
Fishing for trevally can be done from shore, boat, or kayak, and the best time to fish for them is in the early morning or late evening when they are most active.
When bait fishing for them, live bait such as small fish or squid works best, but lures that mimic the appearance of small fish are also effective.
Tuna
Hawaii is home to many types of tuna, but there are three main types: bigeye, skipjack, and yellowfin (Ahi) . All three are popular with sports fishermen, as they are all excellent fighters.
Bigeye tuna can grow up to eight feet long and weigh up to 392 pounds.
Skipjack tuna are smaller, only growing up to six feet long and weighing up to 76 pounds.
Yellowfin tuna have been reported as big as 7 feet and 10 inches in length and up to 440 pounds. All three types can be found year-round.
Wahoo (ono)
Wahoo is a fast-swimming predatory fish found in tropical and subtropical waters worldwide. In Hawaii, they are commonly found in the waters off the coast of Oahu and Maui.
They are famous big game fish due to their speed and fighting ability, and they are also prized for their delicious flesh.
Wahoo has been known to grow as large as 2.5 meters or 8 feet and 2 inches in length and up to 83 kg or 183 lb in weight.
They have a slim body shape with blue-green coloration on their backs and sides, fading to white on their bellies.
Wahoo has sharp teeth and a protruding lower jaw, which gives them a characteristic "toothed" appearance. Fishing them usually involves lures or live or dead baitfish.
Fishing Calendar
These are the best times to catch specific Hawaiian fish species throughout the year:
January: Bigeye Tuna
February: Amberjack, Shortbill Spearfish, and Bigeye Tuna
March: Amberjack, Largemouth Bass, Mahi Mahi Dolphin, Striped Marlin, Shortbill Spearfish, and Bigeye Tuna
April: Amberjack, Largemouth Bass, Mahi Mahi Dolphin, Black Marlin, Striped Marlin, Shortbill Spearfish, Bigeye Tuna, and Wahoo
May: Peacock Bass, Mahi Mahi Dolphin, Black Marlin, Shortbill Spearfish, Giant Trevally, and Wahoo
June: Peacock Bass, Mahi Mahi Dolphin, Black Marlin, Shortbill Spearfish, Giant Trevally, Skipjack Tuna, Yellowfin Tuna, and Wahoo
July: Peacock Bass, Mahi Mahi Dolphin, Blue Marlin, Giant Trevally, Skipjack Tuna, Yellowfin Tuna, and Wahoo
August: Peacock Bass, Blue Marlin, Bluefin Trevally, Giant Trevally, Skipjack Tuna, and Yellowfin Tuna.
September: Mahi Mahi Dolphin and Bluefin Trevally.
October: Mahi Mahi Dolphin and Bluefin Trevally.
November: Amberjack and Bigeye Tuna
December: Bluefin Trevally and Bigeye Tuna
There may be other times to catch the fish listed, but the availability is excellent during these months, and the chances of catching them are high. Other times of the year, it can still be good, decent, or less so, depending on the month and fish.
Frequently Asked Questions
What is the best month to fish in Hawaii?
The best time to fish in Hawaii is the season from March through August, as it is the season when there is the widest variety of fish in the water. But you can still catch a variety of fish the whole year. November through January have fewer types of fish in Hawaii but are excellent months for Amberjack, Bigeye Tuna, and Bluefin Trevally.
Which Hawaiian island has the best fishing?
Hawaii Island, also known as the Big Island of Hawaii, is the best island for fishing because it has the most fishing boats departing from the Kona coast and Waikiki.
Some prefer Kauai fishing trips for a full day on the water, whereas others think Oahu fishing is better because it's home to Honolulu and Haleiwa, popular spots for deep sea fishing charters for a half day.
Maui fishing grounds are also suitable for charter boats with experienced captains and crew.
There are many opinions on this, but ultimately it depends on what type of fish you are looking to catch and what kind of experience you expect to have.
The different islands offer different opportunities. For fly fishing, Kauai is said to be the best. For big-game spearfishing, Maui might be better.
How much do fishing charters cost in Hawaii?
Deep sea fishing in Hawaii costs around $130 per person for a full-day charter, including the price of the boat, captain, and crew.
The cost of a full-day or half-day charter trip can vary depending on the length of the journey and the number of people going on the trip.
Some companies offer private and shared fishing at different prices and tours of 4 hours to a whole day of fishing.
How much does it cost to go marlin fishing in Hawaii?
A marlin fishing adventure with a private fishing charter can range from $1,500 to $3,000 for a half-day trip that leaves the harbor in the morning, while group rates may be cheaper.
The price also varies depending on what type of boat you're fishing on – smaller sport fishing boats will be more affordable than larger ones.
Ultimately, the cost of your trip will depend on how many people are going and how long you want to fish for.
Which Fishing Charters in Hawaii are good for avoiding crowds?
It's best to book a private Hawaii deep-sea fishing charter to avoid crowds.
Going deep sea fishing requires you to go further out in the sea in areas away from the other boats, and these charters provide a more intimate and personalized experience.
Apart from that, you can go fishing in specific areas away from the hustle and bustle of the popular tourist spots, so you can relax and enjoy your time catching fish without having to worry about being surrounded by people.
Which fishing charters are best for families?
Consider the ages of your children and their experience level. Some charter companies specialize in certain types of fish and experiences. Let them know what you are looking for before you book with them so they can do their best to help you.
I recommend you to read online reviews and research what other people's experiences have been. Once you have chosen a few options, you can contact the charter companies and ask more specific questions. This will help you narrow your choices and find the perfect fishing charter for your family.
What are you waiting for? Book a fishing charter today! Read more on our homepage.